Bobwhite Quail and Habitat
Bobwhite quail depend a lot on Spring rainfall, but not because they require surface water, because they don't. Rather, quail need rainfall to signal the "go nest" sign. Rainfall means quail foods as in important seed-producing plants will grow, insects will be abundant and relatively cooler temperatures. All of these factors are important for nesting hens and their resulting broods. Rain is important, but Texas has been quite low on rain over the past several years. So have quail numbers.
Even the Texas Legislature recognized that bobwhite quail populations were dropping. The quail decline was so extreme that, starting in 2002, Texas funded a program to reverse it. The Texas Quail Index, a partnership of public agencies, private conservation organizations, state university units and private landowners, began as a 12-county demonstration program. In 2014, it encompasses 41 counties and seven wildlife management areas, including one at Victoria County's McFaddin Ranch.
Although Texas' wild quail populations are in better shape than states to our east, bobwhite populations statewide have declined an average of 3.6 percent annually since 1978. That's bad news, especially if you enjoy quail hunting, or worse yet, if you happen to be a quail. But don't lose faith just yet.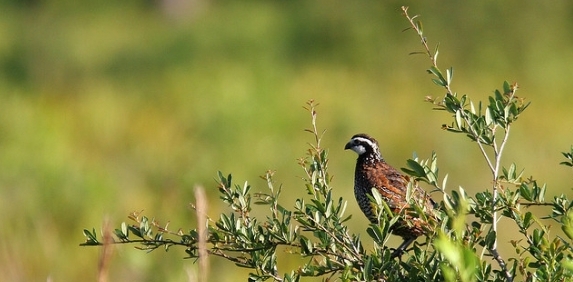 Quail Management: Recovery is Important
Source: Quail are an ecologically- and economically-important resource. Ecologically, they are an indicator species, demonstrating the health of their prairies for wildlife in general. Healthy prairies benefit cattlemen, increasing property values for grazing and hunting use. Rural communities are benefited by hunter and ecotourism expenditures generated by birders traveling to prairies, viewing quail and wintering migratory songbirds.
Land fragmentation, division of rural lands into ever-smaller parcels, is a threat to quail. It, whether accidental or intentional, makes quail-habitat fragmentation almost inevitable. Research shows it disrupts animals' movement and dispersal, making quail more prone to increased predation and nest parasitism. Equally important – it disturbs quail social structure and genetic diversity and diminishes habitat health because natural events such as cattle-grazing rotation and natural fires are prevented.
As holdings become smaller than 500 acres, native rangeland is usually converted to improved pasture through introduction of non-native grasses. Bermuda, in particular, is too dense to support quail movement. Why? In part, replacement's done by recreational ranches wanting lowered ad-valorem valuations for acreage designated as "ag use"/open-space. But managing for wildlife, including quail, earns open-space valuation today.
Overcoming Land Fragmentation
Maintaining healthy quail populations requires managing and maintaining habitat size. It takes roughly 700 birds in a contiguous habitat to maintain healthy covies. Wildlife biologists figure, using historic quail densities for Texas, a good habitat would cover a minimum of 3,500 to 7,000 acres. A habitat that size could have one or many owners, as long as landscape-conservation practices are coordinated by landowners. That could be accomplished via wildlife management associations or cooperatives to prevent covey isolation and even improve (defragment) habitat.
The index demonstrations teach landowners to do that. Year-round, standardized-monitoring techniques documenting breeding populations, predation and harvestable population are taught. Training includes monitoring, testing habitat quality, and best practices for improving quail plants for food and cover.
Texas AgriLife agents and volunteers working with them do this "on the ground," not in a classroom. Each demonstration site is monitored for two years. The objective – providing good habitat, an average 500 nesting sites in randomly selected one-eighth-mile walks. Large and small property owners are encouraged to contact AgriLife Agent Peter McGuill at the Victoria Office to find out about instruction and starting their own quail survey and management program. When managing acreage, Peter says, "Take off that cowboy hat and put on a camo-cap, think like a quail."
If you love Texas, you will LOVE this video!