It's almost mid-November so that means the white-tailed deer hunting in Texas should be heating up. Unfortunately, the weather has been a tad on the warm side for hunters looking to bag a buck. By all accounts this season's forecast has shaped up to be a good one, but habitat conditions have been great and food sources for deer plentiful. But Texas has the country's largest deer population, so things don't have to be perfect for deer hunters to make hay.
According to Texas Parks & Wildlife Department (TPWD) estimates, the 2011-12 deer hunting season saw more than 650,000 hunters harvest nearly 600,000 deer. Both of those figures are right near the average for the past 10 years. But hunters and biologist alike will tell you that last year was tough one for hunting deer. Whitetail went through the worst drought I can remember, but conditions improved greatly into the fall and deer did well. Hunters had fewer deer in the field because of decreased fawn production and the ones that were there were difficult to find.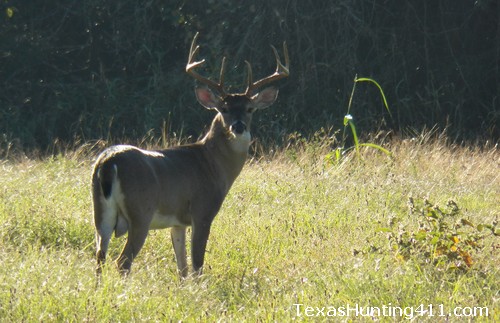 But the carryover of deer from one year means better things down the road for hunters looking for older age class bucks. It's just going to mean a draw-down in the abundance of natural food, some cooler temperatures to get some serious deer rut action across Texas taking place. According to hunter Don Wiswell, things in the Hill Country looked upbeat:
"Deer brought into the local deer processor on opening weekend was fairly slow but steady. Older aged bucks were harvested over the weekend more so than in years past. The biologist logged in 32 bucks and 11 does with an average age of 4.5 and 3.5 years old respectively. Some hunters reported bucks chasing does (rutting activity) and body conditions were fair to good with layers of body cavity fat. With older aged bucks harvested, this meant antler development was somewhat better than average.




Many deer were taken at feeders, as usual, but several hunters reported that some deer were not coming to feeders readily. Instead, these deer were shot away from feeders and had browse and forbs versus corn in their mouths. Most hunters were optimistic about future deer hunting days, but warm temps and a full moon slowed the movement of whitetail during daylight hours."
If you love Texas, you will LOVE this video!