Over the years we have all read plenty of magazines and have heard plenty of lip-service about how big whitetail bucks let down during the rut. This is only slightly true, because big bucks, which are usually old bucks, are not stupid, after all. The whitetail deer breeding season does make bucks move more during daylight hours, which makes them more likely to be seen by hunters and increases your chances for harvesting one. It may be the first day in January, but the rut is still on for those deer hunting in South Texas. It's time to be in the stand!
Reports from South Texas indicate that the rut is in full swing, and will likely carry on for at least another week. One guide I spoke with said the deer were rutting hard in mid-December, but other ranches had yet to see any sign. The drought of 2011 not only put the hurt on native plants, but it impacted whitetail too. Hunting reports indicated that the whitetail rut was delayed a week or two in other regions of Texas, so why should South Texas be any different? It's not.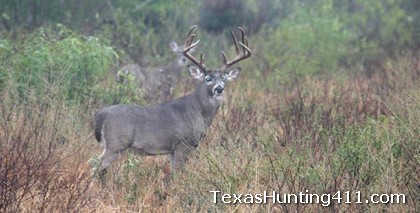 Jim Medina of Encinal said, "Older bucks are finally starting to show themselves. Rains received over the past few weeks created a garden of high quality food for deer to eat, but the rut is finally making them come out of the brush. It's really hard to hunt deer when you can't see them. The quantity of green foods has kept them from coming to feeders." This could still make things tough during the rut. After all, a hunter still needs to see deer.
In South Texas, deer hunting typically heats up during the rut which usually occurs right around Christmas day. With things running late this year, it's time to be in the field and looking for rutting deer even though we are now into the new year. The precipitation received during the fall has allowed deer to put on weight and improve overall body condition. Body condition is important for breeding deer because deer in poor condition will sometimes abandon breeding altogether.
Field reports verify that bucks are now actively pursuing does, so that makes them more vulnerable. Not because they are stupid, but because they are more diurnal, moving more during daylight hours. The South Texas rut is always late compared to the rest of Texas, but this year it's a little late even by South Texas standards. That said, it's now time to go deer hunting if you hunt South Texas! Best of luck!
If you love Texas, you will LOVE this video!