A good feed station for deer will help whitetail stay in the area you hunt and manage. Whitetail bucks are food-focused outside of the rut. Maintaining supplemental feed for deer is not good for keeping them on your property, but also a great way to maintain body condition for bucks and does. Increased nutrition leads to larger antlers and more fawns.
Moultrie Unveils The Feed Station
Hunters and wildlife managers are always look to deliver feed to hungry animals, but with value in mind. The Feed Station from Moultrie may be just what you need. ‬With no electronics and no moving parts, this basic gravity-fed feeder offers unbeatable value and unmatched ease of use. Simply strap the Feed Station to a tree, fill the hopper with pellets, corn or whatever you like and walk away. No batteries or assembly required. No headaches.
The Feed Station is capable of dispensing a wide variety of feed types, from powders to corn to protein pellets, to suit the needs and preferences of every wildlife species. The Feed Station is also ideal for those habitat managers and hunters looking to supply feed to wildlife during a few months of the year without spending a lot of money in the process.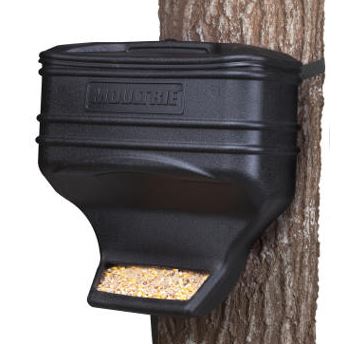 The Feed Station Specs and Capacity
This deer feeder is simple and made to work, last. Like other Moultrie feeders, the Feed Station is constructed to be weather-resistant and reliable due to its simplicity, durability due to its heavy-duty plastic construction and exceptionally easy to use. With the exception of feed, everything needed to get the Feed Station into action comes standard, including mounting straps for quick and simple deployment. Check out the Feed Station's features:
Gravity-fed trough design for flawless operation
Durable and reliable UV-resistant plastic construction
Straps for tree or post mounting included
40-pound feed capacity
No batteries or programming required
MSRP: $24.99
Feeder is a Good Option
The Moultrie Feed Station for deer is the perfect blend of rugged materials matched with a simplistic design for the value-conscious wildlife manager and hunter looking to start a feeding regimen or provide multiple feeding stations with minimal cost. This would be a great piece of equipment for those managing and hunting deer on smaller properties. The size of the feeder limits the amount of feed it can hold, but it holds enough for properties where managers are on-site or visit frequently.
If you love Texas, you will LOVE this video!