Many landowners in Texas are beginning to see the value in managing for wildlife on their ranch, whether it be for hunting game species or for non-consumptive uses. Good habitat and abundant wildlife add a lot to the quality of our lives. As such, landowners interested in managing for wildlife can take advantage of various incentive programs to diversify their income through good land stewardship for livestock and wildlife.
Join the folks in Coryell County on May 6th to hear experts discuss quail and turkey biology and management, feral hog biology and abatement, wildlife management planning for tax purposes, rangeland evaluation, stocking rate calculation, and brush management techniques such as dozing, prescribed fire and herbicide.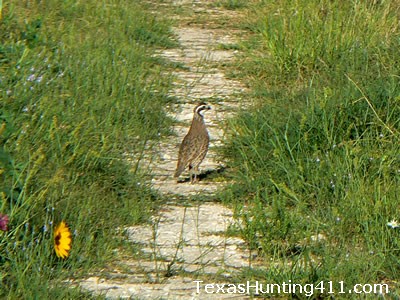 A particular focus will be given to bobwhite quail because of their popularity as a game species, the extreme decline they've seen recently, and the fact that the habitat that produces quail also supports scores of other species of wildlife in the rangelands and woodlands of Texas. We will also focus on feral hog abatement as hogs have detrimental impacts to the wildlife we manage for.
Habitat Management and More
Speakers from Texas A&M Agrilife Extension Service, Texas Parks and Wildlife and USDA-NRCS will present on bobwhite quail biology and management, wild turkey biology and management, feral hog biology and impacts to wildlife, proper brush management techniques, wildlife management use planning, and proper rangeland evaluation for using livestock for wildlife.
In addition to the presentations at the Harman School in the morning, the participants will be visit the Hannah Ranch to watch demonstrations on calculating livestock stocking rates, plant identification, wildlife habitat assessment and feral hog control through trapping.
Wildlife Field Day Registration Details
Where: Harman School Community Center
When: May 6th (8:00 am-4:00 pm)
Pre-registration: Call the Coryell County Agent Pasquale Swaner at 254-865-2414 to register
If you love Texas, you will LOVE this video!