I have spent many a deer season hunting white-tailed deer in the Hill Country of Texas. Llano, Mason and Gillespie County are all great places to hunt deer. Because of the once very high deer numbers, they were all great counties to see deer, but true-to-life trophies were few a far between. Deer hunting in Gillespie County, however, is getting better. Times have changed and many land owners have adopted various versions of a deer management program. Some are a little out there, but everyone has good intentions.
We had a deer lease in Mason County for about eight or nine years running. Initially, the deer population was high on that piece of property and the bucks were dinky. But over the years, because of selective harvest and an effective wildlife management association, the deer numbers were lowered, the weights increased and the antlers did too. It just goes to show what bucks can do when they get the right nutrition. Here is a case in point: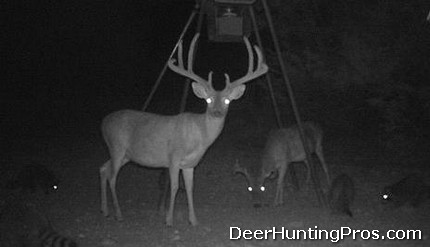 "I have some pictures of this big whitetail buck from September out of velvet. I meant to attach more than one picture, but I'm still learning. I am scoring this deer on the hoof at a conservative 142 to 144 inches. I have watched this buck grow for the past two summers, seeing him everyday, only for him to disappear once the acorns started falling during archery deer season. Although I had no intention of taking him last year, he was an impressive 4 year old at 24 inches wide then.

I am strictly into bow hunting by the way, so getting the deer close is a must. I really thought I would have a very good chance of taking this magnificent buck this year, but to my astonishment the shin oaks are loaded with acorns. How can they be with this severe drought? Last year it was the post oaks, the year before that it was the live oaks. I only have 7 acres of real estate, but I am positioned next to a 1,000 acre Gillespie County ranch. That land is hunted, but it has a deer management program.

I have fed whole cottonseed and protein pellets for the last three years, with noticeable improvement. I am still feeding over a ton a month. I hunted earlier this evening and had a 130 inch 10 point below me for almost an hour, but he was only 4 years old. Besides, I have my heart set on this big, wide buck. Well, all I can do is pray he comes back, or maybe he will make it another year. The deer hunting in Gillespie County looks good despite the drought, but the deer will be a little harder than I had thought. I hate acorns!"
If you love Texas, you will LOVE this video!