Question: "My hunting buddy and I were drawn for the December mule deer hunt at Caprock Canyons State Park in the Texas Panhandle. I have never been to this public hunting area, so could you offer some advice about where and how to hunt site place? We have been mule deer hunting in Texas before, but that was out in West Texas. From what I have heard, mule deer hunting at Caprock Canyons will be a bit different. Any information would be appreciated."
Response: One of my good friends grew up in that area of the state and still hunts about 15 miles from Caprock Canyons State Park. We used to spend quite a bit of time deer hunting around that country. I have seen some monster mule deer bucks in the park. In that part of Texas, the mule deer almost always rut right after the General White-tailed Deer Season and well after the General Mule Deer Season, near first of January.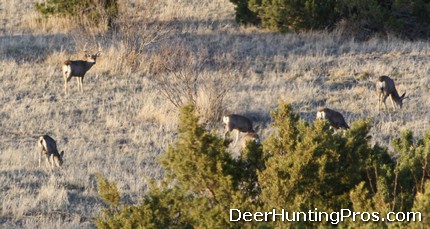 From what I have heard, the park is really good for mule deer hunting. One spot of interest would be located in the northeast corner of the park. There is a neighboring ranch that always plants wheat or oats and those food plots draw a lot of big whitetail and mule deer bucks to that area. With this year being so dry, it may not be the spot to be this year unless those fields are irrigated. I don't know that much about what's happening in that area, but it may be worth a shot just to make sure.
I have hunted aoudad at Caprock Canyons. I saw several mule deer bucks during both my scouting and hunting trips. The landscape is very open with rough terrain, so plan on a western-state-style deer hunt. Open country with vegetated canyons; stuff that mule deer like. It is similar to Palo Duro Canyon if you have ever been there. I do recommend taking a good pair of binoculars for sure. Scan open terrain and look for deer bedded down by small trees or bushes during the day.
I don't know how many mule deer you have shot, but I would be careful about taking the first buck you see. Mule deer hunting is quite a bit different than chasing whitetail. Mulies are not nearly as spooky. In addition, if you see a mule deer buck in one location, he is very likely to be there the next. Also, there are some monsters at Caprock Canyons. My friend said he would see some smaller 18 to 20 inch wide muleys on the wheat fields with does, but they were just the young ones. In mid to late December is when the big mule deer bucks show up, after the season is over. Of course, that will not help you. Best of luck!
If you love Texas, you will LOVE this video!