The Deer Management Permit
The Deer Management Permit (DMP) is a permit issued by Texas Parks and Wildlife Department (TPWD) that allows for the more-controlled breeding of wild deer. The DMP authorizes owners of high-fenced properties to temporarily detain white-tailed deer in breeding pens located on the property for the purpose of natural breeding. Deer may not be detained for purposes that do not include natural breeding, such as the "soft release" of bred TTT deer.
Landowners can use DMP's to "trap" deer within a portion of their ranch, typically 5 to 60 acres, to facilitate breeding using a specific whitetail buck, even breeder deer that are placed in the permitted area. All ranch facilities (DMP pastures) must be completed prior to submitting the application and deer management plan to the local TPWD Wildlife Biologist for review and approval. The application and deer management plan must be approved and signed by an authorized TPWD Wildlife Biologist.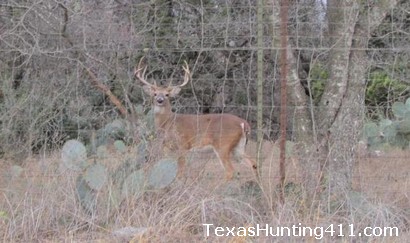 Deer Management Permit Participation & Application
Participation in the DMP program requires a written Deer Management Plan that details the proposed breeding operation. The Deer Management Plan is incorporated into the DMP Application, which can be completed online using the Texas Wildlife Information System (TWIMS). No other forms may be substituted for the Deer Management Plan.
TPWD does require is a non-refundable application processing fee of $1,000. Applications for a Deer Management Permit must be made in consultation with an authorized TPWD Wildlife Biologist. To contact the appropriate TPWD Wildlife Biologist`s in your area landowners should call the Wildlife Division District Leader for their county. Follow this link to select the appropriate county and the District Leader contact information will appear on that page.
Specific Information on the Deer Management Permit
DMP breeding pens/pastures must be between five and 100 acres in size. There may be multiple breeding pens on a property. Up to 20 does and one buck may be detained in each breeding pen. The following types of deer may be placed into the breeding pen: (1) wild deer captured on the high-fenced property, (2) wild unbred deer transported under a valid TTT permit from an approved ranch, (3) deer purchased from a permitted Deer Breeder facility that will be liberated on the property after breeding, and (4) buck deer from a permitted Deer Breeder facility that will be temporarily placed into the pen for breeding and subsequently returned to the Deer Breeder.
Wild unbred deer from the high-fenced property may be trapped and placed in the breeding facility between September 1 and December 14 depending on ecoregion.

Deer may be transported from another ranch directly into DMP pens with a valid TTT permit between October 1 and December 14 depending on ecoregion . Please be advised that neither bucks nor does may not be trapped for purposes of TTT from tracts of land where Deer Management Permit (DMP) deer have been released during the same permit year.
To facilitate release, a minimum of 20 feet of fence or gate must be removed and all supplemental food and water must be removed from the pen for at least 30 days. Pens may contain multiple openings to meet this 20-ft requirement; however, no such opening may be less than 10 feet in width. Each gate or fence opening to facilitate release of deer from the DMP pen must open directly to the pasture from which they were captured (except for deer that entered the DMP facility via TTT permit) and not through another pen. Deer that entered the DMP facility via TTT must be released directly to the release site indicated on the TTT Release Site form, and not through another pen. Deer must be released no later than 45 days prior to the trapping deadline of the subsequent DMP trapping season.
All deer mortalities must be kept in an edible condition and donated to a charitable institution. Accurate records documenting the number and origin of deer in breeding pens must be maintained by the deer management permittee. Deer Management Plan facilities and records may be inspected by an authorized TPWD employee at any time and without warrant.
If you love Texas, you will LOVE this video!