The Chaparral Wildlife Management Area is a 15,000 acre state-owned research and demonstration area located in LaSalle and Dimmit counties in the heart of the South Texas brush country. White-tailed deer hunting on the WMA is by lottery special permit drawing. The area has an abundance of mature bucks and is well known by Texas hunters for the quality of its buck harvest. Due to its popularity, the Chaparral WMA receives more than three times as many applications for either sex hunts than any other public hunting area in Texas!
From 1991 to 1994, deer hunters were allowed to harvest one buck. Under these harvest regime hunters most often selected mature bucks exhibiting above average antler development – or high grading of the buck segment of the deer herd. Harvest regulations were modified in 1995 to increase the harvest of bucks with poor antler development. The bag limit was increased to two bucks and a buck harvest antler restriction was implemented for the public hunts.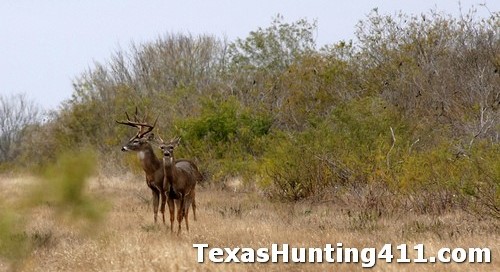 Under these antler restrictions, one of the two bucks must have less than 8 points and the other buck must have inside spread greater than the tip-to-tip ear spread. The objective of these regulations was to increase the harvest of bucks exhibiting poor antler development. These bucks included yearling spikes and medium age and mature bucks with less than 7 antler points. Prior to heading out into the field, hunters were given a pre-hunt orientation explaining the objectives and the rationale behind the antler restriction regulations. Hunters were encouraged to harvest spikes and mature bucks with less than 8 points.
Under antler restrictions the harvest of whitetail bucks with poor antler development increased from less than 20% of the annual buck harvest to about 50%. However, a modest decrease (35% to 25%) in the percentage of mature bucks in the herd was observed as result of the increased harvest of spikes and any other young cull buck. The number of trophy bucks – with gross antler score of greater than or equal to 140 Gross Boone & Crockett points – harvested each year has remained stable. Interestingly enough, a trend of decreasing inside spread in mature bucks has been observed at the Chaparral WMA while average gross Boone & Crockett score for mature bucks has remained stable since the implementation of antler restrictions.
Texas public hunting lands have long been used for research and demonstration to aid in developing hunting regulations and assisting private landowners with habitat and deer management. The Chaparral WMA buck harvest study is ongoing.
If you love Texas, you will LOVE this video!