A new experimental pronghorn hunting season in parts of the Texas Panhandle September 28 through October 6 will allow landowners to control harvest of buck pronghorn on their properties. The experimental season will be in herd units 8, 17, and 25, which include portions of Dallam, Hartley, Sherman, Moore, Roberts, and Gray counties. I expect the season will capture a lot of the breeding season, meaning hunters should see goats on the move.
Under prior statewide regulations, Texas Parks and Wildlife Department determined the pronghorn harvest quota and issued permits directly to landowners. With the new pronghorn rules, landowners or their agents within selected pronghorn management units in the northeast and northwest Panhandle will determine the harvest quota and control buck pronghorn harvest on their property during the three-year pilot project. Hunters are reminded they must receive landowner permission to access their property.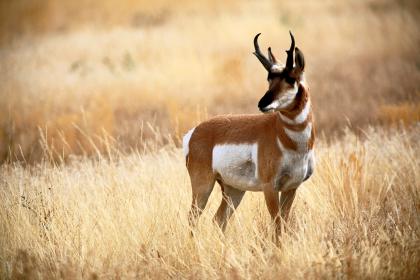 The goal of the project is to simplify pronghorn hunting regulations and increase hunting opportunities in areas with stable populations. Wildlife officials will closely monitor pronghorn herds during the pilot project to ensure populations remain healthy.
How many pronghorn permits will I get?

The number of permits issued within a Herd Unit is based upon results of annual surveys (pronghorn numbers, sex ratios, and fawn crops). Permits are allocated to specific tracts within a Herd Unit, which is directly related to acres of pronghorn habitat for each tract. TPWD suggests that permit demand often exceeds the harvestable surplus, so not all landowners will receive a permit every year.

How much do pronghorn permits cost?

Permits are free. Receipt of permits is dependent upon timely submission of application and harvest cards. Applications must be submitted by August 1. Pronghorn Harvest Cards are due by October 31.



If you love Texas, you will LOVE this video!