The Texas pronghorn hunting season is just around the corner and it's important to remind all successful hunters that speed goats harvested in certain parts of the state must be reported. Texas Parks and Wildlife Department (TPWD) reports all hunters are required to present the intact, unfrozen head of harvested pronghorn at a mandatory check station within 24 hours of harvest. TPWD wildlife biologists will then collect essential biological information from the harvested animal.
These data will be analyzed annually to make sure Texas pronghorn populations remain healthy, allowing for hunting well into the future. Pronghorn check stations are at the following locations:
In Dalhart, at the park off of Lake Drive. Check station is across from People's Church (1929 Apache Dr.). GPS coordinates of Dalhart check station (36.038269, -102.506358),
In Pampa, at Chisum Ranch office (on Price Rd, south of HWY 152). GPS coordinates of Pampa check station (35.531080, -100.989493).
Check stations will be open through the 9-day season (Sept. 28 – Oct. 6 from 9 a.m. – 9 p.m. and the following Monday (Oct. 7) 9 a.m. to noon.
A check station receipt will be given to each hunter to provide permit proof of compliance with the mandatory pronghorn check station regulation. Hunters who harvest pronghorn outside the experimental area are also encouraged to bring their harvest in at the check stations to contribute biological data. Wildlife biologist will age their harvest for free.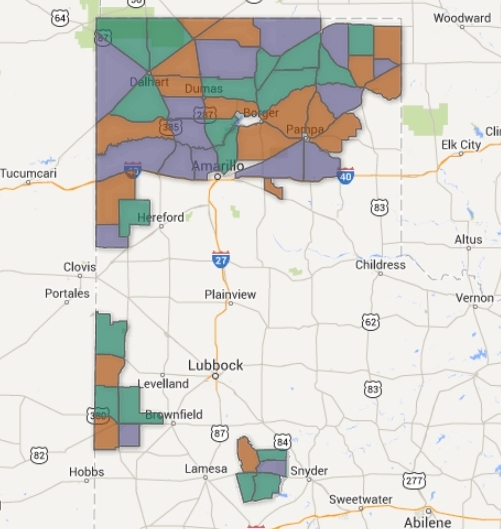 Pronghorn Hunting
Source: "The breeding season of the pronghorn in Trans-Pecos Texas extends from the last week in August to the first week in October. The most vigorous bucks gather small harems of two to 14 does. Young bucks frequently linger at the outskirts of the harem herd and at times attempt to steal a doe or even to interfere with a mature buck in his mating activities. The master of the harem has an endless task in keeping his does together and warding off intruding bucks. The gestation period is between 7 and 7½ months. The young (usually two) weigh from 2 to 4 kg each and appear in May or June."
If you love Texas, you will LOVE this video!