Quail need more than just space to survive. With bobwhite quail, it all boils down to habitat. Cover is an essential part of quail habitat. Lack of cover and proper dispersion of food and water are limiting factors over much of the species distribution in Texas. Quality quail habitat usually consists of scattered pockets of cover, ranging from less than 1 acre up to about 10 acres. Bobwhite quail use structural cover in many ways, and all are important to sustaining healthy, hunt-able quail populations.
Quail are an edge-dependent species. They can move quickly between nesting, watering, and feeding habitats, and escape cover, such that changing from one activity to another constitutes a quick walk or flight of a few seconds duration. Dispersion of essential cover and habitat types need to be within a quarter of a mile of each other. The greater the amount of interspersion of cover and habitat type combinations the better the habitat is for quail. Ideally, habitat components for quail are made up of 1/4 grassland, ½ cropland, 1/8 shrub cover, and 1/8 woodland.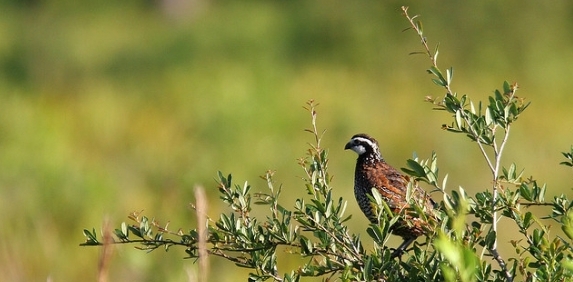 Quail Hiding and Escape Habitat
Quail seek hiding and escape cover when flushed. If flushed from hiding cover, birds tend to fly farther and run farther before ducking into other vegetative cover. Hiding cover varies greatly, from grassy and herbaceous plants to woody species and man-made structures. Heavy quail hunting pressure tends to force quail to seek denser cover for hiding.
Roosting Habitat
Bobwhite quail roost in small groups on the ground among small shrubs, forbs, grasses, weedy glades, reverting fields, and other suitable cover. Roosting habitat free of overhead cover allows birds to fly when threatened by predators.
Resting or Loafing Cover for Quail
Daytime resting or loafing cover provides overhead and lateral protection, has a central vegetation-free area, and offers many avenues of escape. Bobwhite require some type of shrubby or woody cover for loafing, resting and protection from winter snow and winds. Such areas provide a safe resting sites between morning and evening feeding periods. They will use tall grasses and weed patches but prefer woody plants. Many of these sites are known as "covey headquarters" where a covy centers its daily activities. Mesquite, skunkbush, sumac, shinnery oak, and sandsage provided good loafing cover. Brush piles, abandoned buildings, corrals, and old farm equipment may substitute for natural cover.
A covey may have several headquarters within its home range that it uses from time to time depending upon the weather and available food. It's typically located near good feeding areas or even food plots for quail. Loafing and headquarters sites may be as small as 100 square feet but ideally are at least 400 square feet or more. Larger, denser sites are required for protection during extremely cold winter weather. No less than 5% nor more than 25% of a covey home range should be in woody cover that is 3 to 6 feet tall. Covey headquarters and loafing sites are easily made by protecting existing brushy thickets from fire or grazing, felling a tree covered with grape vines or planting small thickets to low growing shrubby species such as shinnery oak, wildplum, or sumac.
Quail Nesting Cover Habitat
Nesting cover likely is the most important habitat component for quail, because birds are most vulnerable to predation during this time. Birds construct their nest on the ground, typically in the protection of a clump of grass or shrug that they can walk to and yet provides some overhead protection. The nest bowl is made from dry vegetation from the previous year's growth. About 80% of quail nests are found within 20 to 25 feet of an edge where habitat types change and which serves as a travel lane for the birds. Most nests are built in a grass clump from 6″ to 18″ tall.
Native prairie grasses with their clump-type growth form are ideal nest cover. Prairie grass sites with a clump density of no more than one 12 inch diameter clump per 4 square feet are the best. This allows for sufficient nesting clumps (about 10,000 per acre) and is thin enough to allow the birds to walk through the cover. Even much thinner nesting cover allows for plenty of nesting clumps and easier travel. In Texas, about 250 nesting clumps per acre is about minimum. Nesting success decreases in absence of good nesting cover.
Quail Brood Cover Habitat
The greatest mortality of quail occurs in the first four weeks after hatch. This is a critical period which often determines whether the fall population will be a bumper crop or less than desired. Quail chicks have only a few requirements but these are a must! Chicks need freedom of movement at ground level, overhead concealment and a diverse assortment of green plants or plant parts within pecking height – which for a baby quail is only about two inches. The ground cover must be very open with only 30 to 50 percent vegetative coverage. This means that as much as 70 percent can be bare ground.
The low-growing greens attract insects such as beetles, grasshoppers, leafhoppers, ants and other invertebrates which compose almost the entire diet of quail up to three weeks of age. Recently burned prairie units are ideal as are old field sites, weedy strips, legume plantings and small grain and legume mixes. Brood cover must be less than 100 yards away from midday loafing cover that is typically woody cover thickets, or stands of taller dense weeds.
Water for Quail
Water is a critical element of quality bobwhite quail habitat. Supplemental water or access to water year-round can increase survival of young. Although quail generally obtain enough water from their environment (i.e., dew, succulent vegetation, insects), quail frequently concentrate around a source of free water, which may be a critical factor for survival of immature birds during drought. Birds usually do not travel over 1 km (0.6 mi) for water.
Quail Habitat Summary
Grass habitat is usually the limiting factor for bobwhite quail because it is often mowed or converted to cropland. Hedgerows are also very important, providing sources of food and cover. Grasslands are used mainly for nesting cover and brooding, cropland for feeding and dusting, and brushy areas, thickets and woodlands for escape cover, loafing and winter protection. Survival is reduced in areas that lack heavy cover. Both food and cover must be stable or continuously renewed for quail during the entire year.
If you love Texas, you will LOVE this video!