If you like your birds fast and furious then teal hunting season is right for you. Waterfowl biologists agree that habitat conditions across the majority of Texas are much better than years past, and teal populations are up. Late summer rain has improved habitat found along coastal marshes and prairies. More "sweet water" means better conditions along the coast and directly translates into more flooded habitat.
In Eastern Texas, the ponds, lakes, and reservoirs could use some additional water, suggest waterfowl biologist, but waterfowlers that seek out the shallow waters of many of the water bodies that remain will likely encounter many of the migrating teal leaving the breeding grounds moving though the area daily. Heading westward, playa wetlands of the High Plains also received good rainfall early in the summer and some are still holding water that will attract early-season teal.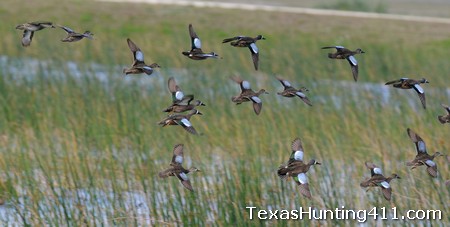 Source: Texas duck hunters should see more action during the upcoming early teal season, Sept. 13-28, thanks to near record numbers of birds and an anticipated typical migration pattern. Prospects for early teal season are looking very good, especially compared to the last few years, according to Texas Parks and Wildlife Department Waterfowl Program Leader Kevin Kraai.

"First, blue-winged teal populations are near record high and production reports are excellent. Additionally, unlike last year's very late spring, nesting efforts were more on time this year and thus should result in a timely migration that will overlap better with our teal season dates."



Some weak fronts are evident and blue-winged teal are already along the coast. Teal hunting can be hit or miss, but this year looks to be good given habitat conditions and the fact that birds are cooperating. Look to traditional wetlands and the shallow ends of reservoirs to put birds on your strap.
Texas hunters can take up to six teal daily during the 16-day season. The possession limit is three times the daily limit, which cannot be applied before the third day of the season.
If you love Texas, you will LOVE this video!