Teal season in Texas is about to kick off and new regulations this year allow hunters to take up to six teal daily, an increase in the daily bag limit of two from previous seasons. The possession limits for all migratory game birds has also increased and is now three times the daily limit. For ducks, including teal during the early September 14-29 season, the possession limit is 18, which only works after the third day into the season. So what does teal hunting on the Texas coast look like this year?
"I never get nervous about teal season, retorted Jim Sutherlin, TPWD's Upper Coast Wetland Ecosystem Project Leader based out of the J.D. Murphree Wildlife Management Area (WMA). "Our early bluewings are about a week or so late, possibly an effect of the late cool spring weather we have experienced." Sutherlin said blue-winged teal finally showed up on the Big Hill Unit of the Murphree WMA early last week. "We will have teal to shoot on September 14, but teal numbers will likely improve on the Upper Coast as the season plays out."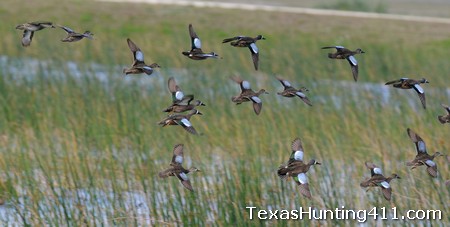 Similar reports have been coming from the middle coast.
"We are seeing a few birds on the mid-coast WMA's but nothing to get excited about just yet," added Matt Nelson, Mid-Coast Wetland Ecosystem Project Leader. "As Jim mentioned, nothing to get nervous about; they'll be here at some point." Nelson provided a brief synapsis of duck habitat conditions on the three popular wildlife management areas along the middle coast:
Water conditions at the Hurst WMA are fair with very shallow water available in the tidal marsh and little to none in the freshwater impoundments. Mad Island WMA is in a little better shape as it has received a decent amount of rain over the past two weeks and currently has water in the tidal marsh and its impoundments. Guadalupe Delta WMA has a good amount of water in the marsh.
"I expect the crowds to be large at all three areas opening weekend of the teal hunting season as the hunters have been burning up the phones," predicted Nelson. Hunters can access all of these high quality duck hunting hot spots by possessing an Annual Public Hunting (APH) Permit.
If you love Texas, you will LOVE this video!