The upcoming white-tailed deer hunting season should be a good one in Texas. Though the past couple of years have been tough for everyone, 2013 has been good for deer and other wildlife. Timely rains were delivered, especially in the front half of the year keeping whitetail food levels in good shape to date. The Texas sun has dried things out as of late, but that's nothing new for the summer season in any part of the state. It's mid-July but it is already setting up to be a good deer season for many parts of the state.
Without a doubt, herd recruitment has taken a hit the past few years, but the years of 2007 and 2008 were great for whitetail. I realize that many of the deer that were born back during those years have already been turned into some sort of tasty smoked product and consumed long ago, but there are likely some bucks from that cohort that are still out there. Those bucks would be 5 1/2 and 6 1/2 this hunting season. I don't know about you, but that's exactly the type of deer that I will be looking for.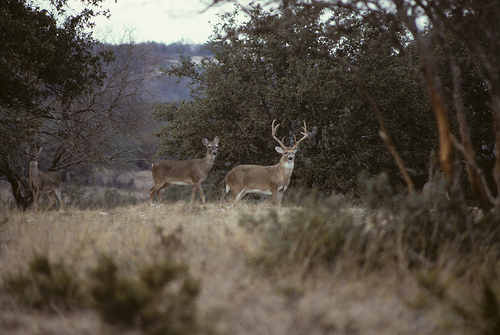 Properties involved in deer management will reap the rewards of the 2007 and 2008 fawn crops. Many ranches involved in management programs have reduced their annual buck harvest in recent years because of lower fawn crops, meaning there should be good numbers of bucks and does of these older age classes. It's now time to harvest of all of those fawns that have grown up to be big, heavy-horned, mature buckss. We are still a few months away from deer hunting season, but I am already getting pumped up. The property we manage will have some great deer out there. I think a lot of other properties will too.
The icing on the cake is the fact that it has been a good year for antler growth. Much of Texas has had enough rain to keep food levels ta good to even high levels in the field. That bodes not only for improved buck quality this year, but also for good fawn numbers. More recruitment into the herd means more animals that will may need to be removed. This deer hunting season will probably not be a recorder breaker by Texas standards, but the hunting should be good. The total number of bucks out there may be lower, but there should be decent numbers of good, mature bucks. Look for more fawns, too.
If you love Texas, you will LOVE this video!