It's hot outside but that won't stop me from thinking about the upcoming dove hunting season that is now only a month and half away. And it looks like there will be plenty of bird hunting action to go around. The U.S. Fish and Wildlife Service has once again approved for Texas this year a 15 bird daily dove bag limit and increased possession limits for all migratory game birds. The SWWDA will now extend eastward along its current boundary and continue south along Interstate 37 from San Antonio to Corpus Christi, effectively doubling its current size.
"For the last two decades, white-winged dove populations have steadily expanded both their numbers and their geographical extent," said Dave Morrison, Small Game Program Director with the Texas Parks and Wildlife Department. "We believe, and the Service agrees, an expansion is appropriate to take advantage of additional dove hunting opportunities."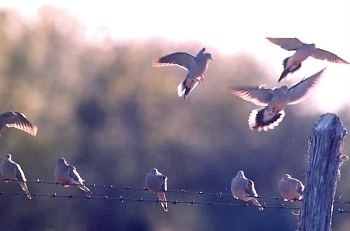 To take advantage of the earliest possible opening dates for the special area, the season will run Sunday, September 1 through Labor Day, Monday, September 2, and then reopen Saturday, September 7 and Sunday, September 8. The bag limit during the four-day season is 15 doves in the aggregate to include no more than two mourning doves and two white-tipped doves and hunting is permitted only from noon to sunset.
Dove season in the North and Central zones will run concurrent from September 1-October 20 and December 20-January 8. The South Zone dove season is set for September 20-October 27 and December 20-January 20, with the season in the SWWDA September 20-October 23 and December 20-January 20.
Under new rules, the possession limit for all migratory game birds, including mourning and white-winged dove, is three times the daily bag. That's great news for Texas dove hunters because that means they can hunt longer and bring home more birds. Hey, I love dove hunting not only for the great wing-shooting, but also because those suckers are downright tasty when sandwiched between a jalepeno and an onion, then wrapped in bacon and grilled!
If you love Texas, you will LOVE this video!