Texas hunters look forward to the opening day of dove hunting season each year. It is a time for getting outdoors, spending time with friends an family, and having some fun. It also signifies the beginning of the fall hunting season in Texas. And it looks like hunters have a lot to look forward to. Starting this year, Texas will be going to a 70-day dove season and 15-bird daily bag statewide. Possession limit is still twice the daily bag.
The season in the North and Central Dove Zones runs Tuesday, September 1 through Sunday, October 25 and reopens Saturday, December 26 through Saturday, January 9. The South Zone dove season runs Friday, September 18-Tuesday, November 3, reopening Saturday, December 26-Sunday, January 17.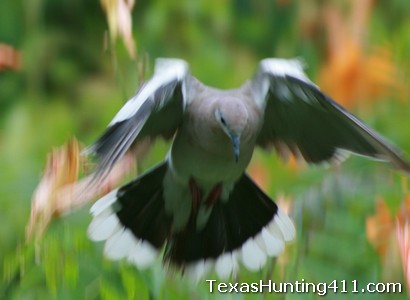 The additional 10 days in the North Zone should provide more late season dove hunting opportunity for die-hard sportsmen, according to Mason. "Most folks hunt early, usually the first couple of weekends, but there are usually birds to be found throughout the season around water holes, food sources and managed food plots so the extra days could mean good hunting during enjoyable weather."
The Special South Texas White-winged Dove Area hunting season will open to white-winged dove afternoon-only (noon to sunset) hunting the first two full weekends in September running September 5-6 and 12-13 and reopens when the regular South Zone season begins on Friday, September 18 through Tuesday, November 3 and again from Saturday, December 26 through Wednesday, January 13.
The Special White-winged Dove Area season takes four of the allowable 70 days, so when the regular season opens, this area most close four days earlier than the rest of the South Zone.
Hunters in the Special South Texas White-winged Dove Area must abide by a different bag limit set for that area.The daily bag limit is 15 birds, not more than four mourning doves during the first two weekend splits and 2 white-tipped doves. Once the general season opens, the aggregate bag limit will be 15.
If you love Texas, you will LOVE this video!