Texas is blessed with some great dove hunting that includes both mourning and white-winged doves. Mourning doves are primarily country birds whereas most white-winged doves will be found in and around suburban and metropolitan areas, where they roost. Whitewings will often fly to surrounding farm fields to feed, and this is where dove hunters can take advantage of Texas' healthy whitewing population. This is especially easy if you own hunting land, but Texans also have another option.
For hunters looking for dove hunting< opportunities on Texas public lands, check out Texas Parks and Wildlife Department's (TPWD) Public Hunting Program. TPWD offers affordable access to quality hunting experiences with the purchase of a $48 Annual Public Hunting (APH) Permit. From my experience, many of these leases are great properties that do offer good dove hunting opportunities. If you want to go dove hunting but lack a place to go, buy the APH permit and get out there.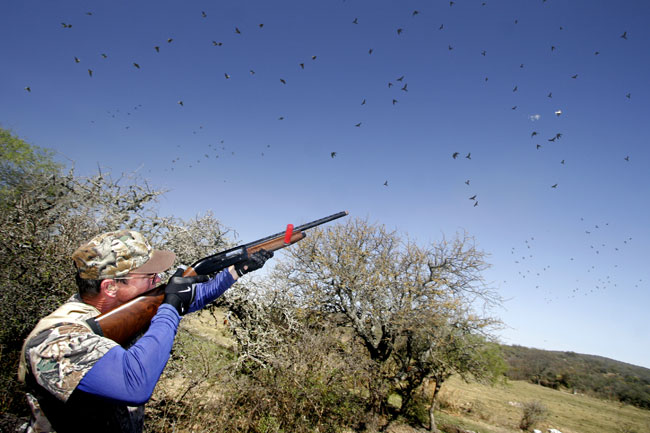 APH permit hunters have access to more than 100 hunting units leased from private landowners specifically for dove and small game. TPWD has also made it easier than ever to check these places out. An online map of all of the hunting leases allows for "virtual scouting" of these areas. By clicking on the locator points, you can follow links to detailed aerial maps with highlighted boundaries and links to information pages from the APH information map booklet. Check out the maps here.
Also, for tech-savvy hunters, a downloadable Google Earth file (.kml) is also available that contains all the boundary information along with links to the corresponding APH map booklet pages. This way you can put this information right onto your computer screen and have the ability to really check out the dove hunting leases up close and personal.
Hunters should be aware that in addition to a valid Texas hunting license, a state Migratory Game Bird Stamp, and certification in the Harvest Information Program (HIP) is required. HIP certification is offered when you buy your license and involves responding to a few simple questions about your migratory game bird harvest during the previous season. The often forget to ask these questions or will simply ignore them will they pop up. Make sure you are HIP certified when you buy your license if you plan on duck, goose or dove hunting this season.
If you love Texas, you will LOVE this video!