It's always a good idea to read over the deer and turkey hunting regulations each year. Things don't always change from year to year, but it's the year that you forget that something happens. For the better part of 20 years Eastern Turkey Hunters have reported their harvest to mandatory check stations scattered across east Texas. Unlike most Texas game animals, each Eastern Wild Turkey harvested in Texas must be reported within 24 hours of harvest.
In the recent past, that meant a drive to the local turkey check station. That check station may be located right down the road or across the county, which is not all that convenient. Texas Parks and Wildlife Department (TPWD) is looking to change that. Beginning this coming spring turkey hunting season (2015), Eastern turkey hunters< can report their harvest on their Apple or Android smart phone or tablet by downloading TPWD's Wildlife Harvest Survey.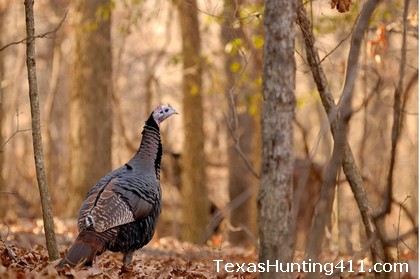 The new app is available on both iTunes and Google Play. The app will have links to game wardens, wildlife biologists, wildlife management areas and more. Use the app to report your harvest or for all the other functionality it offers. Another option for reporting your harvest during the 2015 spring Eastern turkey season is through the TPWD website. You can also find the turkey check station locations for the physical check stations at the appropriate TPWD web page.
TPWD plans to continue to run the physical check stations during the 2015 spring season. However, in the coming years the digital checking systems will become the standard for all successful turkey hunters to follow. This system will also be available for hunters to voluntarily report any resident game animal harvested in Texas, which will help them with estimating total harvest for a variety of wildlife.
TPWD is always trying to increase the amount of good data on how game animals are doing across the state. This is how many of wildlife decisions are made. It's been suggested in several instances that more data can be used to justify more liberal bag limits for specific game animals. Best of luck during the spring turkey hunting season!
If you love Texas, you will LOVE this video!