Question: "We have been deer hunting for a couple of years now and I finally got a game camera this last season. So this year was the first that I had pictures of deer during the summer, and there were some nice bucks showing up on camera. Now I am fearful that I will lose them during the deer hunting season unless I supplement them with some type of food or mineral. What would you recommend? I have three places each with two to five acres of open grass. Would it be better to establish deer food plots or put up protein feeders?"
Response: There are many options when it comes to supplemental feeding for whitetail deer. The important thing to keep in mind is that there are many variables that come into play when deciding what feed source to use as a supplement. Do you have cattle or hogs? Do you have a tractor and implements to get the land ready? Do you own the property or lease the land? How many deer do you have on the place or that will utilize these plots? What is your average rainfall?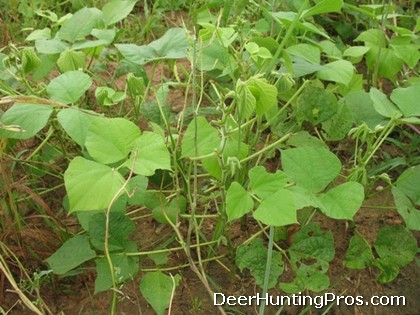 If you can not perform or cover most of what is in the questions above then I would use protein feeders to hold your deer rather than lab lab or any other type of food plot. When you calculate all of the expenses, it is usually less expensive for most people to spend the money on protein feed.
To plant food plots properly you will need rather expensive equipment, and then you are hoping once you make an investment and plant the seed that it will actually rain and grow. At least if you buy protein pellets you know what you have. Food plots are more of a gamble.
If you have the right soil and equipment and can get the food plots to grow well, then it's cheaper than any pelleted protein. Lab lab is an excellent food plot selection, but if it rains and grows really well, then chances are you will have enough native forage that you will not need a food plot for the whitetail deer on your property.
If you are looking to just hold animals during the deer hunting season, then my suggestion for you would be to run a protein feeder or two and also have a couple of timed corn feeders going. A lab lab food plot can do the trick, but you will need the equipment and rain.
If you love Texas, you will LOVE this video!