Question: "My brother and I have been deer hunting for about 15 years, but have never been on a deer lease. We hunted my uncles 120 acres, but since he recently passed away, we are going to have to explore other opportunities. I'm going to go look at a lease in Kent County in a week or so. Do you know of anyone that has been deer hunting in Kent County in recent years or do any of you have any experience with the area? Interested primarily in whitetail."
Response: I deer hunted north of the town of Jayton for three years about 12 years ago. I know there are some big ranches in Kent County, as well as some small ones. The quality of deer hunting will depend on which part of the county the lease you are looking at is located. Some of the ranches in the area have some really good bucks, and some just average. Of course, the deer management philosophy of the folks that own or hunt the land dictates a lot of that.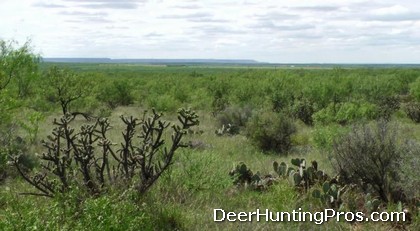 Back then, many of the ranches found in Kent County were way over hunted for the most part, with too many hunters per ranch. A high hunter density is a sure-fire way to destroy the buck age structure of an area. At the time, we had a hunter for every 1,500 acres and that was about right. We had both mule deer and whitetail deer.
The mule deer where nothing special, but there were some whitetail bucks up to 170 Boone and Crockett. The ranch located to north was 20,000 acres and there was no deer hunting on it at the time, so that helped tremendously I suspect. Ranches to the south of were smaller, had a lot of guns on them and deer quality was lower.
Winter wheat fields and food plots offer tremendous deer hunting during the late winter when it gets really cold. Most of the best whitetail hunting is the open country or around the heavy mesquite draws. Kent County also has good numbers of feral hogs as well as coyotes.
I also had a friend that hunted north of Rotan, just little south if Jayton. Deer in that area were good to about 160 inches. There were lots and lots of pigs, as there were on the river. In fact, he said the deer hunting was much better before the hogs moved in. There are also mule deer in that area, as well as aoudad. My advice would be to scope out the property, as each one is different. Deer hunting in Kent County can be poor, okay or awesome, but a lot depends on the property. If it's a good deer lease, with good habitat and not to many hunters, I'd jump on it!
If you love Texas, you will LOVE this video!