One of the biggest factors is growing and producing quality whitetail bucks is allowing them to get some age on them, to reach maturity. This is not a whitetail hunting secret by any means, but it can be something hard to implement, especially on smaller properties. It seems the age of harvested bucks may have very well been a limiting factor in many parts of Texas, at least according to wildlife officials with Texas Parks and Wildlife Department (TPWD).
If you've ever been out to the Kerr Wildlife Management Area to attend one of their deer management seminars then you know that age, genetics and nutrition are the key ingredients to growing real trophy bucks. In the past, however, it was hard, maybe even downright impossible, to let a younger, good looking buck walk when you knew the hunter right across the fence was going to put a bullet through his lungs, hang him high in a tree and pop his hide off like a dirty bed sheet. That all changed when antler restrictions hit many Texas counties. It not only providing the regulatory tool for allowing bucks to age, but most hunters feel pretty good about it too.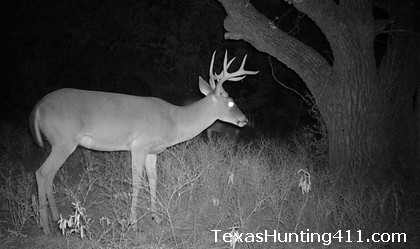 TPWD: While areas like South Texas are known for producing exceptional whitetail bucks, most anywhere in the state is capable of producing good bucks every year. In fact in 2012, two archery hunters were lucky enough to connect on a couple of large non-typical bucks scoring about 250 Boone and Crockett. Both bucks were wild, free-ranging deer taken on low-fenced properties, one in North Texas and the other in Southeast Texas. Hopefully, that trend will continue in 2013.




"Another positive trend we have observed in the last few years is that the proportion of young bucks in the harvest has declined across the state, and most noticeably in the eastern third of the state where bucks had a hard time surviving to 3 ½ years of age," Alan Cain, TPWD whitetail deer program leader, points out. "In 2012, bucks 3 ½ year old and older comprised 65 percent of bucks checked during TPWD surveys which are a reflection of the deer harvested each season."

Digging a little deeper into the data Cain explains that in antler restriction counties, 59 percent of bucks checked during TPWD surveys were 3 ½ or older, a dramatic improvement in age structure when those older age class bucks represented only 30-35 percent of the harvest before antler restrictions were implemented.

"This shift towards harvesting older bucks in the Pineywoods, Post Oak Savannah, and Cross Timbers and Prairies regions is a direct result of the antler restriction regulation," Cain says. "That harvest strategy has been very effective at allowing many more bucks to reach maturity.  We have received many positive reports from landowners and hunters in those regions who are excited about the number and quality of bucks they are observing on their properties."
If you love Texas, you will LOVE this video!