Hunting in all Texas Duck Hunting Zones kicks off later in the week and it's time for hunters to get in the know. Preliminary duck hunting reports have reiterated that water is a must! The High Plains Mallard Management Unit opens again on November 4, but opening weekend in the Panhandle saw lackluster results due to an absence of water. Very few playas, if any, are wet, so duck habitat is stressed. Most ducks were taken over feed lot ponds. Again, duck season re-opens and runs November 4-January 29, 2012.
The season in the North Duck Hunting Zone Duck opens November 5 and the best waterfowling prospects have been found on lakes and reservoirs still holding water. The lack of ponds and bottomland duck habitats have ducks concentrated on big waters. However, public access to these large water bodies is limited, as many boat ramps are inoperable due to extreme low water conditions. Hunters with shallow-running flatbottoms able to traverse muddy timber should see some birds and have good shoots.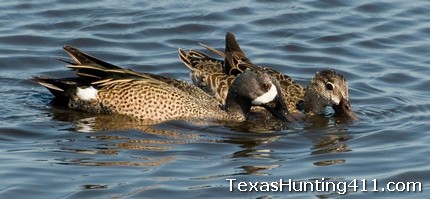 The cold front that blew through the last week in October brought new birds to the area and deposited wigeon, gadwall and green-winged teal on lakes and reservoirs. Another cold front this week should encourage more ducks to move to Texas, though most coastal prairie ponds holding water are already covered with ducks. Prospects are fair to good for duck hunting in the South Zone.
The South Duck Hunting Zone opens on November 5 as well and prospects look excellent for hunters that have access to water. The Texas coast continues to suffer from the drought. Many hunters, however, have the ability to pump water from wells. Coastal prairie ponds are black with ducks and specklebellies where there is water, and a few snow geese showed with last week's front. Concentrations of dark geese on the ground indicate a good hatch of young whitef-fronts, which should encourage steady decoying action.
The front forecasted for this week should shove more light geese to the coast. Reports along the bay flats indicate good numbers of pintail, wigeon, gadwall and redhead. More diving ducks are showing up daily with new fronts. Bay hunters should enjoy more steady duck hunting this year with the lack of water on the coastal prairies. Prospects are good if you can find suitable duck habitat to set out some decoys.
If you love Texas, you will LOVE this video!