It's been a dry year across the Lone Star State and pronghorn antelope numbers are down, but there will some amount of pronghorn hunting in Texas come October 1-9. Pronghorn numbers have most definitely declined in 2011 due to drought-related low reproduction and additional parasite issues, so Texas Parks and Wildlife Department (TPWD) biologists are suggesting that they will probably issue fewer pronghorn permits than in recent years. And that makes sense.
Aerial "goat" surveys ought to be completed in late August, but preliminary observations suggest that pronghorn populations of these prairie pronghorn antelope have definitely slipped. These estimates follow a project last winter that moved 200 pronghorn from the Panhandle to the Trans-Pecos region around Marfa. Many of those animals died, but an estimated 30 to 40 percent, or about 60 to 80 antelope,  were still on the range in early July.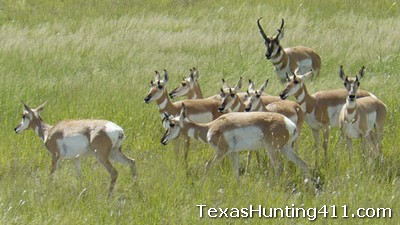 TPWD issued 447 pronghorn hunting permits last year and around 600 the year before that, said Shawn Gray, the agency's pronghorn program leader. "I'm willing to bet it will be less than that this year," Gray said. "We're going to have some pronghorn hunting, but primarily in Hudspeth and Culberson counties. Maybe there will be a few around Alpine, but I'm not so sure we'll have any around Marfa. It's a possibility, but it's not looking good right now."
Gray added that the Panhandle has good pronghorn populations, but "some of the fawn crops are pretty dismal." It's easy to blame habitat-killing drought, but challenges don't stop there. The pronghorn's range in Texas stretches across the Trans-Pecos, High Plains, Rolling Plains, and Edwards Plateau — a landscape that is characteristically dry. Predators and disease add to the already-harsh environment.
As many as 17,000 West Texas antelope were counted in the mid-to-late 1980s, but by 2000 there were only 5,200 of them. The translocation project last winter had a two-pronged goal to bolster the Trans-Pecos herd while helping researchers figure out what caused population declines. The Panhandle pronghorn were trapped by helicopter, and then transported in truck-drawn trailers 500 miles south to their new homes in Presidio County. But there was a tense moment on the trip.
One of the vehicles broke down between Seminole and Andrews, and it was about 80 degrees,  dangerously hot for the already-stressed pronghorn, Gray said. But, he added, firefighters from Seminole came and hosed the trailer down, cooling it. That saved some of the animals, although about a half dozen died. Texas' pronghorn populations face internal parasites as well as a landscape hammered hard by drought, but something tells me these speed goats are going to make it. These ungulates have been on the landscape forever, let's just hope Texas pronghorn hunting can stay there too.
If you love Texas, you will LOVE this video!