The weather has warmed up along the coast this week but the blue-winged teal are still here! The season started off with a bang and some cool weather earlier in the season help the hunters and the birds. But despite the warming weather, teal hunting in Texas is holding up well. A small push of cool weather made it down the Central Texas today, so a few new birds should be in the area. According to the latest duck hunting report, teal season along the coastal prairies was arguably the best most hunters could remember. That is, if you had ponds brimming with fresh water.
Many duck hunters reported seeing more teal than ever throughout the entire 16-day season. A new wave of bluewings arrived last week which made the last weekend of the season just as fast as opening weekend. The largest concentration of teal were seen in Colorado, Wharton and Matagorda counties. These counties are the historic rice growing counties of the central coast, and the birds still love them.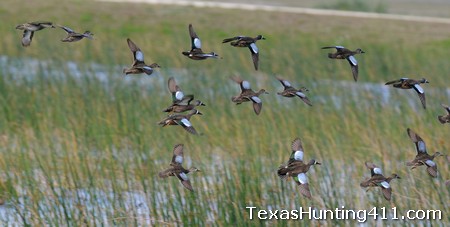 Marsh hunting suffered due to low tides and a hypersaline environment brought on by the drought. Teal do not like super-salty water and that never bodes well for these birds. The first tiny flocks of specklebellies appeared this week on the coast, as well. The Big Hill Unit of J.D. Murphree WMA faired well. In addition, teal hunters said they saw noticeably more big ducks like pintails and shovelers during teal season. With regular duck and goose season kicking off November 5, some serious duck hunting is not all that far away. Again, if you have the water you will have birds!
If you love Texas, you will LOVE this video!